A Play, A Pie & A Pint Autumn 2018 Season Announced!
Wednesday, August 1st, 2018
Welcome to our Autumn 2018 season of A Play, A Pie and Pint at Òran Mór!
PPP's Autumn season launches another 13 brand new plays from the best of Scotland's writing talent, here's just a hint of what's to come…
Meet 'The Heatherbelles' as they hit dry land after 40 years on cruise ships, tip your hats to Flanders & Swann and  tap your toes along with Fred Astaire and Audrey Hepburn. Uncover the gross miscarriage of justice of Oscar Slater, witness a young soldier's return from the Somme and see how a lottery ticket changes an emigrés life. What happens when an agoraphobic  has a gun shoved through his letter box? Or when a WagonWheel is the only food left in a safe house? And join us to revisit a classic tale of an obnoxious patriarch who becomes intoxicated with power – in this day and age, who'd have thought it?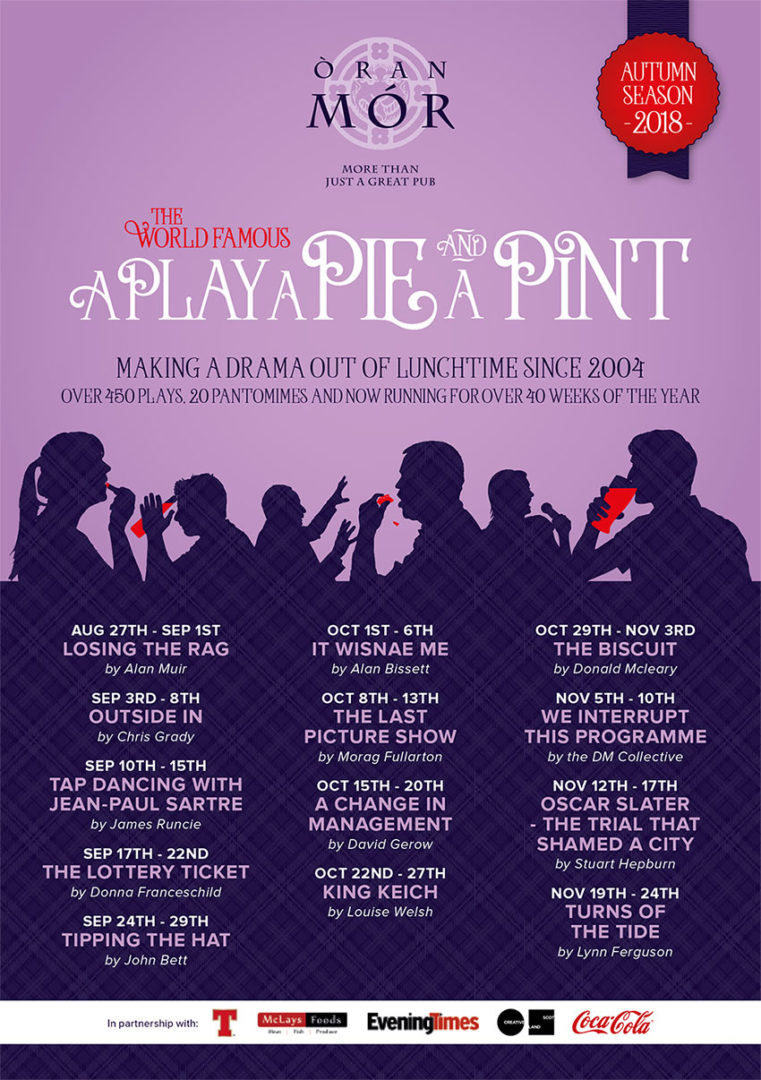 Aug 27th – Sep 1st
By Alan Muir
Sep 3rd – 8th
by Chris Grady
Sep 10th – 15th
TAP DANCING WITH JEAN-PAUL SARTRE
By James Runcie
Sep 17th – 22nd
By Donna Franceschild
Sep 24th – 29th
By John Bett
Oct 1st – 6th
By Alan Bissett
Oct 8th – 13th
By Morag Fullarton
Oct 15th – 20th
By David Gerow
Oct 22nd – 27th
By Louise Welsh
Oct 29th – Nov 3rd
By Donald Mcleary
Nov 5th – 10th
By the DM Collective
Nov 12th – 17th
OSCAR SLATER – THE TRIAL THAT SHAMED A CITY
By Stuart Hepburn
Nov 19th – 24th
By Lynn Ferguson
For full programme details and ticket information please visit our A Play, A Pie and A Pint website.